Siglap Seaside Residences is in one of the most highly sought after location in East Coast as it is also near the MRT as well. Also, there is no new launch there for a long time and therefore this project is anticipated to be well received.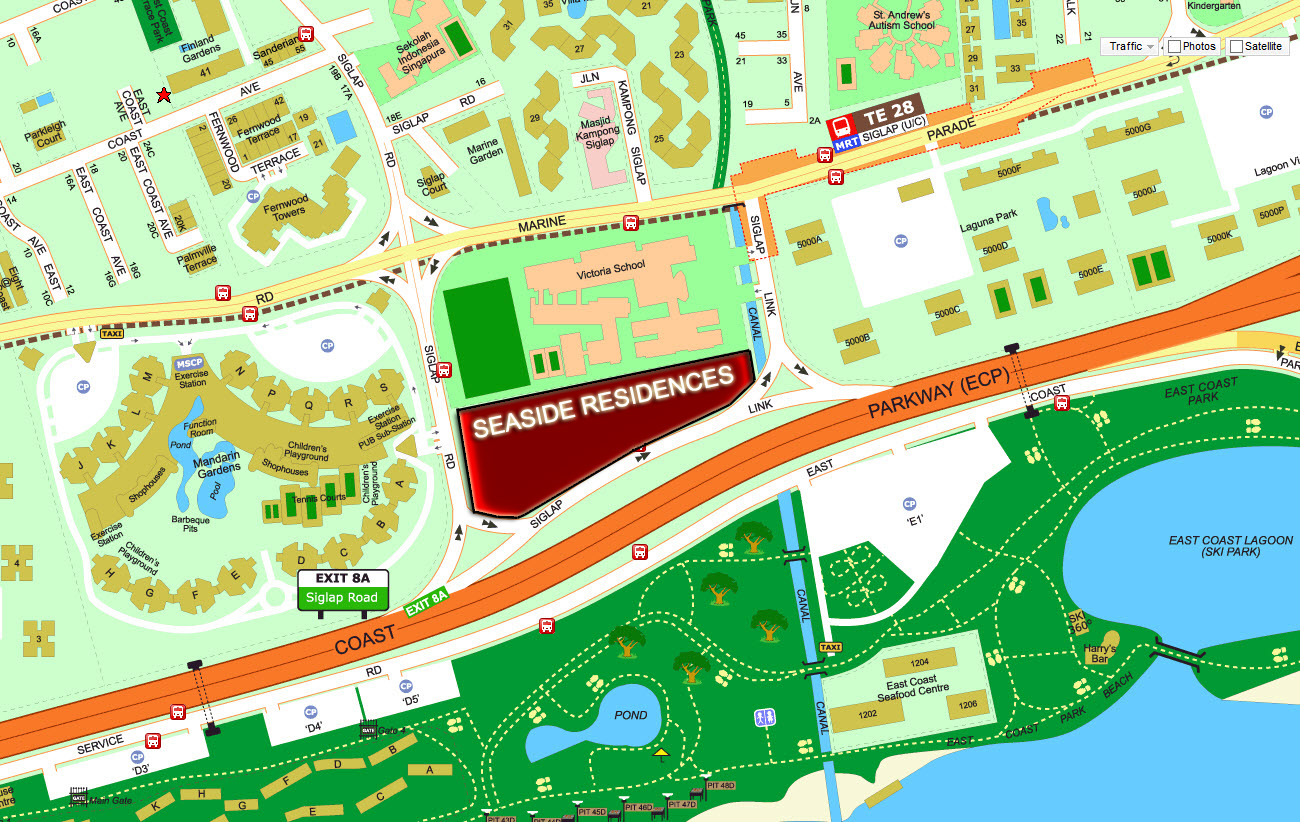 Academic Institutions near Seaside Residence
Victoria School
Victoria Junior College
Saint Patrick's School
Temasek Junior College
Temasek Primary School
Temasek Secondary School
Places of Interest near Seaside Residences
112 Katong
East Coast Park
Marine Parade Centre
Parkway Parade

Focusing on Seaside Residences Location
Talking about the facilities or amenities close to Seaside Residences, in a short time, it will have an MRT station located right next to the development. East Coast Park is also withing walking distance as well. That means if you want to have some entertainment for your family you will be able experience at the comfort of your home. 112 Katong Shopping Mall is another attraction that is situated at a short distance from Seaside Residences. Other than this, school, colleges, and other facilities are located at a close distance as well.
East Coast Park Minutes Walk Away
When we buy a home for our family, we always want to choose the best location so that all the amenities that is needed is at a short distance away. In order to achieve this, we invest a lot of time and effort to find the perfect property. Seaside Residences will be the ideal location based on the location in East Coast and will be the next ideal future home for your family. This upcoming project by Fraser Centrepoint Homes has everything that is essential for a perfect home due to its amenities as well as the convenience to public transport.
Marine Cove holds a fond spot in the memories of many Singaporeans. Revamped in 2016, it is now home to a giant outdoor playground set over a sprawling 3500 sqm and family friendly dining outlets, including food outlets that offer healthier dining options including salads, juices and freshly made sandwiches.
Grab your bikes and head over to the Road Safety Community Park with your kids. Paths, service and transit stations have all been built so that children can experience traffic from a driver's point of view. Here, learning about road traffic safety is both fun and educational at the same time.
Please also see new development Meyerhouse Condo location also at East Coast. Meyerhouse is a new development by UOL Group as well as Kheng Leong which is the former Nanak Mansions.
It is located at a very promising location that is Siglap Road in D15. This place is well connected with other parts of the Singapore via MRT network and by road as well. The magnificent 112 Katong mall is just at a walking distance from the development, and we are located near to East Coast Park as well. That means whether you The Myst want to go for shopping or to have some fun with your family, you can do that in a matter of minutes, considering you make the Seaside Residences as your home once it is completed.
Please see Seaside Residences site plan and floor plans for more detailed information with regards to the facilities available and the floor plans layout.